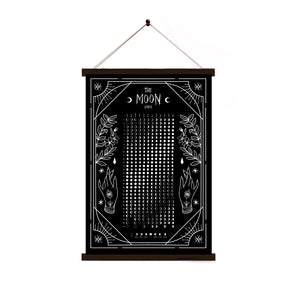 2022 Moon Calendar
$22.22
Translation missing: en.products.product.regular_price
$44.44
I've always wanted to design my own moon calendar!  This magical calendar outlines when all the full moons and new moons are, and it looks beautiful on your wall.  This will ship in mid - late December!
13x18inches!  High quality matte print on heavy card stock
(doesn't come with frame, but search magnetic frame on amazon to get something similar)
Full moons are typically great for releasing, and new moons are great for manifesting.  I've been doing full moon and new moon rituals for years now, and find this is a great way to do self work.  Every month I think about what I need to let go of, and what I want to manifest in my life.  This is how I've been able to build my music career, and let go of self destructive patterns.  The moon serves as this giant reminder in the sky that it's time to reflect and think about your goals and progress.  
Designed by me and Alejandra Saenz
https://www.instagram.com/aleksaenz/